Super Ingredients, Spices, Oils and More Mixed Up for Healthy Skin
---
Guarding the muscles, bones and internal organs, skin is the largest organ of the body! Life can take a toll on this outer covering every day—exposure to sun, wind and dry cold weather; kitchen burns; cuts and scrapes; rashes and insect bites; sports injuries, etc.
Fortunately there are a lot of low-cost household items to reach for that won't sting or frighten your kids when you and your family have skins woes.
Spice Rack Resources
Rosemary is an herb that is high in antioxidants and also has anti-inflammatory, antifungal, and antiseptic properties, which makes it beneficial  in treating and preventing a wide variety of health problems including skin infections and fungi. It also offers respiratory relief for those with chest colds or asthma.
Turmeric is a spice with antibacterial, anti-inflammatory, and antiseptic properties, which lends itself well to the treatment of minor cuts and scrapes. It may be beneficial in treating both skin conditions (such as psoriasis) and joint inflammation (such as arthritis).
Super Ingredients
Apple Cider Vinegar can help cure heartburn, constipation, and indigestion. It can also help maintain healthy cholesterol and blood sugar levels. When diluted with water and applied topically, it serves as a natural acne and wart treatment.
Baking Soda  has a soothing effect on skin when applied topically, as it helps relieve itching and redness. When diluted with water, it also settles an upset stomach. Additionally, it can help cure bad breath, as it rids the mouth of bacteria.
Coconut Oil Applied topically, coconut oil moisturizes the skin and helps provide relief and healing from skin conditions like eczema and psoriasis and minor injuries like bumps and bruises. Coconut oil has antibacterial and antifungal properties, so it is beneficial in strengthening the immune system and building a resistance against new illnesses.
Honey Honey has antibacterial and antimicrobial properties, which makes it useful in the disinfection and healing of cuts, scrapes, and other minor skin injuries. Honey also provides relief from a cough and can help promote a restful night's sleep.
Indispensable Oils
Chamomile oil has sedative properties that promote calmness and relaxation. When used in a bath or during massage, it can treat stress, headaches, and menstrual cramps. Chamomile oil, when diluted, also promotes a healthy scalp and may be useful in the treatment of lice.
Cinnamon oil,when diluted, helps to promote circulation. It is also beneficial in topically treating infections, as it is an antibacterial and antiseptic agent. Cinnamon oil may also positively affect digestion and can treat diarrhea or an upset stomach.
Clove oil has disinfectant properties that make it particularly useful in treating minor cuts, scrapes, and burns. It is also a natural insect repellant. Diluted and applied topically, clove oil can be beneficial in the treatment of acne.
Tea tree oil is useful when applied topically to treat skin conditions such as acne or sunburn. It is also an antifungal that can be used to treat warts, ringworm, or athlete's foot. Tea tree oil can aid in recovery from congestion or other symptoms associated with viruses such as a cold or flu.
Healing Herbs and Plants
Aloe vera gel provides topical relief for skin problems such as minor burns or sunburns. It can also help to expedite healing cuts, blisters, and open sores. Aloe moisturizes the skin while also removing the sting associated with dermatological issues or injuries. Taken internally, aloe soothes the digestive tract.
Calendula, from the marigold flower, is often used as an oil or ointment applied topically to relieve skin rashes and inflammation.
Helpful Homeopathic Medicines
Apis mellifica provides soothing relief following an insect sting or bite. It relieves the stinging sensation, redness, and swelling that may occur following such bites and stings. It is also useful for itchy skin conditions.
Arnica montana provides first-aid relief for those experiencing pain associated with bumps but it also works on bruises. It is useful for pulled or strained muscles and the aches and soreness that follow.

Sulfur is a mineral that is helpful in treating skin conditions such as eczema or acne. It is used to help soothe red, itchy skin associated with these or other skin problems.
Thuja is a type of tree that is useful in treating conditions that result from fungal infections. It is noted for its use in treating ringworm and warts when used topically. It may also be used to help infants and children cope with stressful medical procedures.
Alternative Treatments for Nearly 100 Common Illnesses
You would not believe how many ailments can be treated without ever leaving your house. From the spice rack to common ingredients and garden-variety plants and herbs, you can treat and cure many ailments without trips to the drugstore. There's also a host of oils and homeopathic medicines that are readily available at your local natural store or online. Get ready to be amazed by what cranberry and garlic (and a host of other common ingredients and products) can do for you and your family.
You can find several "top 10 list" for my favorite spices, super ingredients, curative foods and beverages, indispensable oils, vital supplements, healing herbs and plants, helpful homeopathic medicines, and best mind-body therapies in my new book. As a pediatrician for 20 years, I have assembled a comprehensive reference guide for nearly 100 common illnesses, from allergies and asthma to sinusitis and sore throats.
Treatment Alternatives for Children (Alpha Books, 2012, ISBN 978-1-61564-181-9) offers side-by-side comparisons between conventional and alternative treatment options. Each comparison gives brand and generic names of conventional medications and natural alternatives, along with standard dosages, active ingredients, effectiveness, and potential side effects for each. Visit Penguin Group USA at http://us.penguingroup.com/nf/Book/BookDisplay/0,,9781615641819,00.html for more information.
---
About the author: Lawrence Rosen, MD, is a nationally recognized expert in pediatric integrative medicine and Chair of the American Academy of Pediatrics Section on Integrative Medicine. He is the founder of the Whole Child Center, a revolutionary primary care practice in New Jersey. Appointed as Clinical Assistant Professor Pediatrics at UMDNJ/New Jersey medical School, Dr. Rosen is a graduate of New York Medical College and the Massachusetts Institute of Technology. He is the pediatric columnist for Kiwi Magazine and Medical Advisor for the Deirdre Imus Environmental Health Center at Hackensack UMC.
This free app helps you find the right Boiron homeopathic medicine for your symptoms in just 3 clicks or less. Click the phone below to get the app!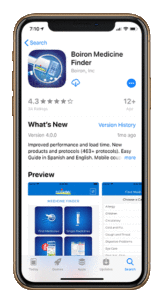 ABOUT BOIRON
At Boiron, we believe there's more than one way to feel better. Since 1932, the Boiron family has been committed to providing quality medicines. As world leader in homeopathy, our passion is your health. Our promise is your satisfaction. Find out more.
Always read and follow label directions.
*Claims based on traditional homeopathic practice, not accepted medical evidence. Not FDA evaluated.
**C, K, CK, and X are homeopathic dilutions.
Learn more.