Real Moms Talk Calendula Cream
See why these "real moms" rely on Boiron's Calendula Cream to heal and soothe their families' cuts, scrapes, chafing, minor burns, sunburn and other skin irritations.
Boiron Calendula Cream Uses + Benefits
Natural is very important to Lydia and her family. See how Boiron Calendula Cream, made from Garden marigold, has become a staple in the Cohn household to heal skin irritations including cuts, scrapes, chafing, minor burns and sunburn.
During the winter, my skin gets so dry that the corners of my mouth and the inside of my nose will crack. When this happens, nothing works better than Calendula Ointment!
– Vicki S., Ki Massage Therapy, Richmond, Va.
About two weeks before the Ironman 70.3 in Austin, Texas, I fell off my bike and scraped the side of my leg. I used Calendula Ointment for the first time, and now I will never go back to commercial ointments. Calendula was soothing and refreshing on contact, and within the first 24 hours, I could tell the ointment was speeding up the healing process. In the same week, I went for an open water swim in my wetsuit, and the strap that holds the zipper up kept rubbing the back of my neck every time I turned my head to breathe. Afterwards, I had a mild burn from the friction. Once again, Calendula came to the rescue!
– Jeremy Koontz, Elite Triathlete & Ultramarathoner
I really like your products, Calendula Cream and Gel. I wanted to let people know that Calendula is amazing for skin care! I use both products for my skin—I have dry skin and irritations on my face, and especially on my hands and between my fingers. It soothes dry skin, cuts, scratches and burns.
– Corinne M., Gulfport, Fla.
I want to sing the praises of your Calendula Ointment! We use it ALL the time in this house. It is a first aid must-have in our opinion. Funny enough, it was recommended to me by my midwife to pick some up for our homebirth. Thank you so much for such a dependable product.
– Danielle C., Tucson, Ariz.
With three little boys and a very active lifestyle, cuts, scrapes and burns happen a lot around here. And actually I was the first in the family to require [Calendula Cream], as I burnt my hand taking bread out of the oven. Let me tell you, I have used my fair share of burn creams. In high school, I worked in a pizzeria and still have scars on my hands from it. This cream soothed the burn on my hand and helped along the healing process. And since it is homeopathic, it doesn't have that nose-burning antiseptic smell, nor is it super greasy. I think it is safe to say that every home needs a tube of Calendula Cream from Boiron.
– Pamela O., Eugene, Ore.
This free app helps you find the right Boiron homeopathic medicine for your symptoms in just 3 clicks or less. Click the phone below to get the app!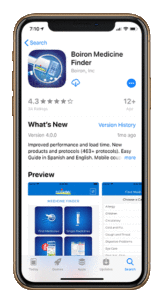 ABOUT BOIRON
At Boiron, we believe there's more than one way to feel better. Since 1932, the Boiron family has been committed to providing quality medicines. As world leader in homeopathy, our passion is your health. Our promise is your satisfaction. Find out more.
Always read and follow label directions.
*Claims based on traditional homeopathic practice, not accepted medical evidence. Not FDA evaluated.
**C, K, CK, and X are homeopathic dilutions.
Learn more.