Fresh from nature,
Boiron Calendula is made from the garden marigold to soothe and heal common cuts, scrapes, minor burns, and skin irritations.*
Cuts and Scrapes
Cuts and scrapes are a part of everyday life, but they can leave your skin sore, uncomfortable, and prone to infection. Next time you get one, reach for Boiron Calendula. This first aid topical is available in ointment, cream, and gel formulas that offer soothing, healing relief for your minor wounds and skin abrasions.
Sunburn & Dry Skin
As if protecting your muscles and internal organs wasn't enough, your skin puts up with a lot. Exposure to sun, wind, and cold weather all take a toll on your body's largest organ. People with dry skin or who spend lots of time outdoors will appreciate the light, moisturizing texture of Calendula Cream.
Calendula officinalis
Boiron Calendula is made from its namesake: the garden marigold (Calendula officinalis). A native to Southern Europe and cultivated widely throughout North America, it offers more than its good looks. This healing flower has been used topically for generations to naturally repair damaged and irritated skin.
and other fine pharmacies and natural product stores
This free app helps you find the right Boiron homeopathic medicine for your symptoms in just 3 clicks or less. Click the phone below to get the app!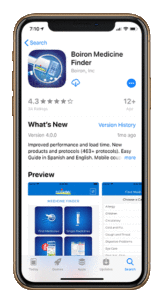 ABOUT BOIRON
At Boiron, we believe there's a better way to feel better. Since 1932, the Boiron family has been committed to providing the purest medicines using sustainable practices. As world leader in homeopathic medicines, quality has always been our passion and you well-being is our goal.
Always read and follow label directions.
*Claims based on traditional homeopathic practice, not accepted medical evidence. Not FDA evaluated.
**C, K, CK, and X are homeopathic dilutions.
Learn more.