Fresh from nature,
Boiron's Calendula products are made from the garden marigold to soothe your skin irritations the natural way.
Calendula Cream
Cuts
Scrapes
Chafing
Calendula Gel
Skin Irritations
Razor Burn
Insect Bites
Calendula Burn
Minor Burns
Sunburn
Dry Skin
Calendula Ointment
Cuts
Scrapes
Minor Burns
The flowers of the Calendula plant, also known as garden marigold, have been used topically for generations to naturally soothe and repair irritated skin. As the plant-powered active ingredient in Boiron Calendula topicals, Calendula helps promote the healing of minor burns, scrapes and skin irritations and relieves sunburn and minor cuts.*
Available in four formulas — cream, gel, ointment, and burn — Calendula topicals are paraben-free and have no artificial dyes or fragrances. They work with your body, and there's a low risk of side effects when used as directed.
Which Calendula is Best for You?
Trying to decide which Calendula topical is the best fit for you and your family? Use these tips as a guide.
| | | | | | | |
| --- | --- | --- | --- | --- | --- | --- |
| Calendula Cream | | Calendula Gel | | Calendula Ointment | | Calendula Burn |
| | | | | | | |
| The soothing and moisturizing texture of Calendula Cream is ideal for use on dry or chafed skin. | | The cooling effect of non-greasy Calendula Gel is ideal for relieving razor burn on the face or legs. | | Calendula Ointment stays on skin longer to promote healing by moisturizing the irritation. | | Calendula Burn temporarily protects and helps to promote healing of minor burns. |
| Learn More | | Learn More | | Learn More | | Learn More |
This free app helps you find the right Boiron homeopathic medicine for your symptoms in just 3 clicks or less. Click the phone below to get the app!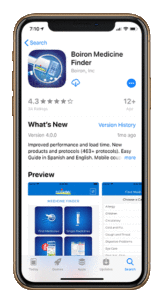 ABOUT BOIRON
At Boiron, we believe there's more than one way to feel better. Since 1932, the Boiron family has been committed to providing quality medicines. As world leader in homeopathy, our passion is your health. Our promise is your satisfaction. Find out more.
Always read and follow label directions.
*Claims based on traditional homeopathic practice, not accepted medical evidence. Not FDA evaluated.
**C, K, CK, and X are homeopathic dilutions.
Learn more.