Calendula vs Arnicare and When to Choose Which
Stock your medicine cabinet with Calendula and Arnicare, two complementary first aid essentials. Boiron, world leader in homeopathic medicines, offers these two multi-purpose topical products as creams, gels, and ointments. The creams moisturize and are best for dry or delicate skin. The gels are cool, refreshing, and readily absorbed. The ointments stay on the skin longer for conditions that require longer healing time. To help distinguish the difference between Calendula and Arnicare, and their different forms, Boiron offers the following 10 tips for common traumas and injuries associated with summer, travel, and kids.
1. Sunburn
Even if you're prepared for sunburn, you should still use common sense and protect yourself with sunscreen and a hat. But if you've fallen asleep in the sun and turned as red as a lobster, try Boiron Calendula Cream. This formula is specially suited for conditions that require moisturizing the skin.
2. Barbecue burn
Minor burns that occur in the kitchen and around the outdoor grill may need more time to heal than minor sunburn. Use Calendula Ointment because it adheres to the skin longer, maintaining contact between the affected area and the healing agent.
3. Sandal blisters
Those new sandals may look comfortable, but your feet just aren't used to those straps. If a blister should arise, don't pierce it. This exposes the skin to infection. Most blisters heal on their own, but to help them along, apply Calendula Ointment to the blister and cover with a band-aid
4. Dry skin
Skin is exposed more to the elements during warm weather. From feet in open shoes to lips dried out from sun, convertible rides, and chlorinated pools, use Calendula Cream. Try rubbing this cream into cracked heels and using it as a lip balm.
5. Insect bites
These are hard to avoid, unless you hide indoors. With its cooling sensation, Calendula Gel is uniquely suited to provide soothing relief from stinging skin irritations.
6. Minor cuts
Most kids can't seem to get through the day without a cut or scraped knee of some sort. This is true during summer days as well as on the playground when school is back in session. Both kids and accident-prone adults slicing veggies for grilled kabobs will appreciate non-stinging Calendula Cream.
7. Bruises
Falling from trees and playground equipment is a childhood rite of passage. Arnicare Cream promotes the healing of these ouches and is suited for use on delicate areas like the face. Also, during the season of warm weather fashion, women who bruise easily will value this smooth cream that reduces bruise discolorations.
8. Sore muscles
Seasonal gardening and home improvement projects will give hibernating muscles quite a workout. Arnicare Cream is particularly good for massaging into sore muscles after those first few sunny-weather outings.
9. Sports injuries
Kids of all ages who engage in impact sports such as soccer or endurance sports such as cycling will benefit from Arnicare Gel. Professional athletes often rely on Arnicare Gel that is readily absorbed and provides cool, soothing relief.
10. Bike/rollerblade fall
Here's a trick question: Should Calendula or Arnicare be applied after a fall that has caused both bruising and broken skin? The answer is use both Arnicare Gel and Calendula Cream, but in a specific way! Avoid applying Arnicare to broken skin while treating conditions under the skin: bruises, sore muscles, or stiffness. Gels are absorbed quicker and are better for hard impacts. Use Calendula for cuts, scrapes, and other skin irritations. The moisturizing formula of a cream is better for cuts and won't sting.
Just remember Arnicare in blue packaging is for bruises and Calendula in red packaging is for cuts. Seek professional medical advice for serious or persistent conditions.
This free app helps you find the right Boiron homeopathic medicine for your symptoms in just 3 clicks or less. Click the phone below to get the app!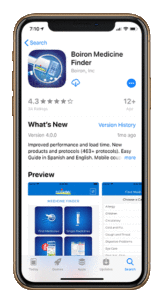 ABOUT BOIRON
At Boiron, we believe there's more than one way to feel better. Since 1932, the Boiron family has been committed to providing quality medicines. As world leader in homeopathy, our passion is your health. Our promise is your satisfaction. Find out more.
Always read and follow label directions.
*Claims based on traditional homeopathic practice, not accepted medical evidence. Not FDA evaluated.
**C, K, CK, and X are homeopathic dilutions.
Learn more.